BEC Laser is a manufacturer with combined well-trained technicians of more than fifteen years experience in laser applications. We are specialists in industrial laser systems for a variety of applications with a focus in laser marking/engraving and laser welding machines. Main products as fiber laser marking machine, UV laser marking machine, CO2 laser marking machine, mould repairing laser welding machine, jewelry laser welding machine, automatic laser welding machine etc.
Our laser machines have been widely applied to jewelries, glasses, watches, electrical appliances, food packaging, piping, hardware, tools, mold, medical instruments, etc. We have maintained a good cooperative relationship with customers from more than 50 countries including the United States, Mexico, Germany, Spain, South Korea, Poland, Ireland, and Russia, etc.
The focus of our business is the customer, we take our work seriously and from the first contact to fully understand their needs, analyse their products and then recommend them suitable machines. All of our laser machines have two years warranty, moreover, we have an engineer team which can offer service anytime in English and available to serve machinery overseas. For the overall development of the company, Cohesion Laser & NJ laser, as BEC subsidiary, will responsible for the business of laser marking machines and laser welding machines in the United States.
We strive to provide a professional solution to satisfy their product requirements. Solving the problems for customers is our sole purpose, the customer satisfaction is our success.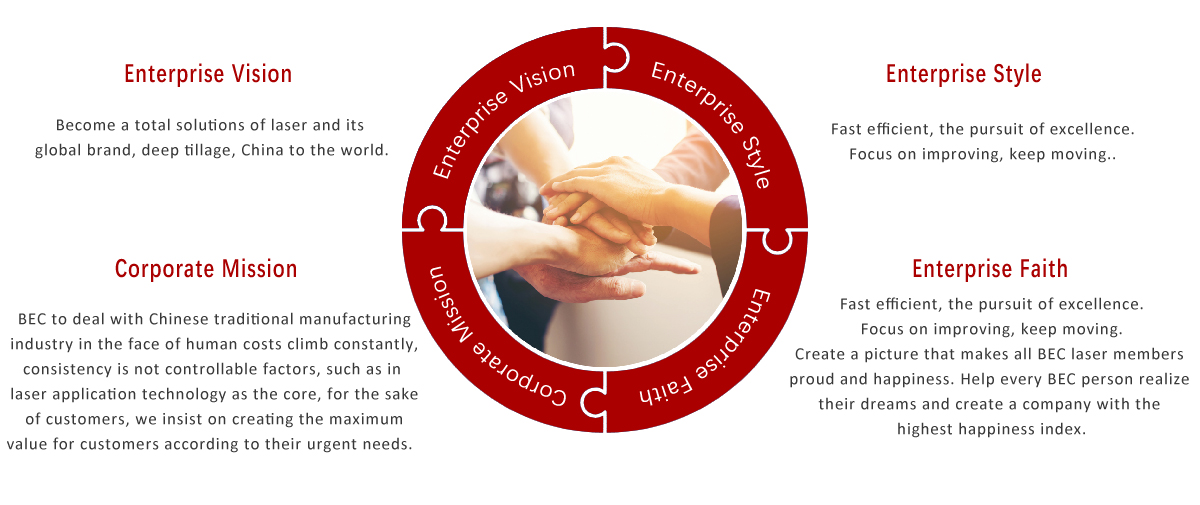 As ISO9001: 2000 certified laser machinery manufacturer, BEC Laser is committed to providing customers with high-quality, reliable laser machines.
As a result of our quality control measures, our laser marking machine, laser welding machine all have got CE certification, FDA certificate, ROHS certificate, SGS certificate report and so on.
We adhere to the idea of customer-centric, the standard behaviour of rapid response to customer needs, continuing to create long-term value for customers.
To provide effective service to customers is the direction of our work and the scale of our value evaluation,the achievements of customers is the achievements of our own.
To offer good service to our customer is the only reason we exist, customer demand is the driving force for our development.